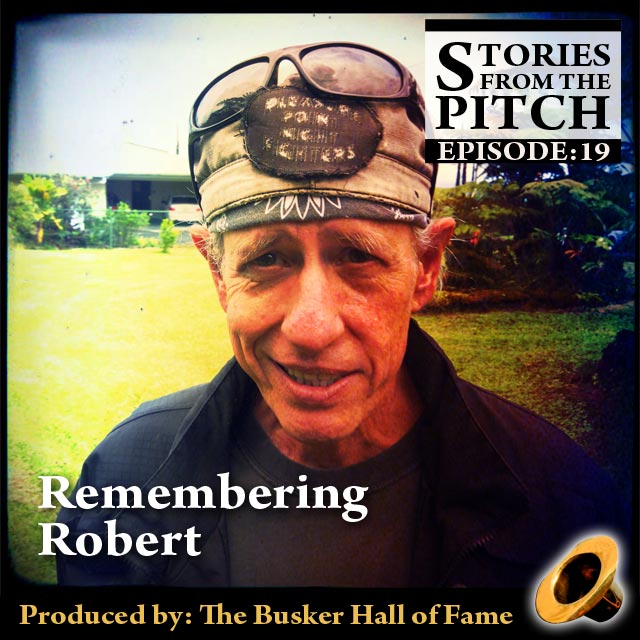 Episode Notes:
Voices: David Aiken, Robert Nelson and Mike Wood
Original Recording Dates:
Robert: January 10 & 11, 2012
Mike: September 19, 2012
David: September 29. 2012
Date: Aired: October 1, 2012
Locations:
Robert: Butterfly Acres, Pahoa, Hawaii
Mike: London, England
David: Aboard the Golden Princess steaming towards Hawaii
Music used in this Podcast: "Sunshower" from the Leyland Gordon Group's Time Dances CD.
Mixed and edited by: David Aiken for the Busker Hall of Fame
Comments: It's been a sad month here at the Busker Hall of Fame since news of Robert Nelson's death was made public on August 27, 2012. We were gearing up to start a second season of shows, but that all came to a screeching halt while we all paused to reflect on the effect that Robert Nelson has had on our lives and on the Busking community world wide.
Facebook posts on his page came in from all over the world and we felt a special tribute episode was in order, so Mike Wood, head of R&D at the Busker Hall of Fame set up a phone number for people to call and tell us a story or share a memory about The Butterfly Man. We're hoping you'll be able to call and contribute to what we're hoping will be a suitable memorial episode to the man, the myth, the legend. The number to call is:
+1-416-613-0003
We look forward to hearing from you soon.
Podcast: Play in new window | Download
Subscribe: RSS